A pin-up girl, also known as a pin-up model, is a model whose mass-produced pictures see wide appeal as popular culture. Pin-ups are intended for informal display, e.g. meant to be "pinned-up" on a wall. Pin-up girls may be glamor models, fashion models, and actresses.(source:
Wikipedia
)
Grable's famous pin-up.
Many pin-ups were photographs of celebrities considered to be sex symbols. A prime example being Betty Grable - Whose legs were famously insured by her studio for $1,000,000 with Lloyds of London, and whose iconic bathing suit photo made her the number-one pin-up girl of the World War II era with her poster "Pinned up" in the lockers of many a G.I. It was later included in the LIFE magazine project "100 Photos that Changed the World"
Other pin-ups were artwork, often depicting idealized versions of what some thought a particularly beautiful or attractive woman should look like. Provocative images, particularly used in advertising, trod a thin line between sex and commerce; drawing on figures like Marilyn Monroe who created a sensation when featured centerfold in a 1953 Playboy.
Additionally, there are several contemporary artists such as John Kacere - The subject of his Photorealistic paintings were exclusively the mid section of the female body. Although in the early 1980s he did branch away from this theme and included the entire body of a female in lingerie, only to then return to his original mid-section of the female body in 1988.

Playboy magazine December 1972 cover featuring
the last illustration work of Haddon Sundblom
Perhaps more importantly there was also Haddon Sundblom - If anyone was responsible for the explosion of vibrant beautiful pitchwomen, it was this Chicago artist. Whose lush oil technique influenced a roster of important pin-up artists.
The most famous being Gil Elvgren, who worked at Sundblom's Stevens-Gross advertising agency along with such notable artisans as Al Buell, Harry Ekman, Bill Medcalf and Joyce Ballantyne. Their technique of using thick layers of paint to achieve a warmth and glow was dubbed 'the mayonnaise school'.
Until the Monroe/Playboy sensation, it was mostly Esquire who provided opportunities for a generation of pin-up artists; although they had presented photographic pinups previously, these had never contained overt nudity. Then in 1970 Penthouse introduced the world to pubic hair.
pretty soon the introduction of explicit men's magazines made the saucy depictions of 'the mayonnaise school' seem quaint and old-fashioned, as further advances in Photographic technology brought quicker easier means of satisfying the pressures of monthly deadlines.
Among the thousands of talented artists working hard to bring good art to the masses, many are still making time to pay homage to the natural beauty of the female form with some truly stunning art.
And thanks to zazzles cutting edge print technology many of these beauties are now available on a wider range of products than ever before. You can now own beautiful pin up's on anything from Key-chains, to Bumper stickers, to Keds sneakers, or go all out: to show off the true splendour of these works with zazzle Posters; made with premium UV-resistant archival ink, and available on seven different media, from basic poster paper to canvas.
My own original art is all handdrawn in pencil & because I love the effect of the contrast I generally only colour the clothing on my
Sexy Ladies
as well as offering the raw sketches themselves on products.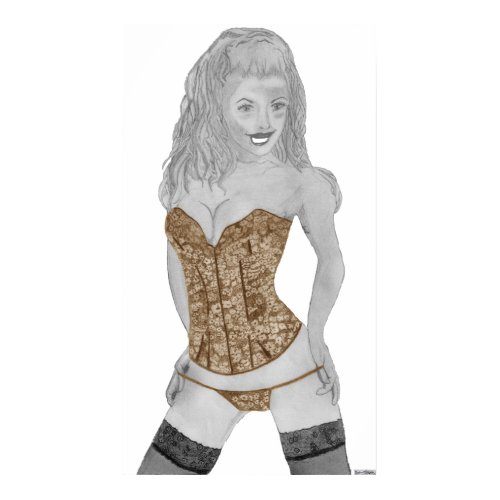 Angelica (in Brown) Poster
by
Lace9lives
Large format printing
by Zazzle
However Zazzle is a marketplace of astounding capacity and with a quick search you can find a fantastic selection of anything you're looking for. This results in quite the collection of "Pin-Up" art created in many different ways. Below is an example from a store that is a personal favourite of mine.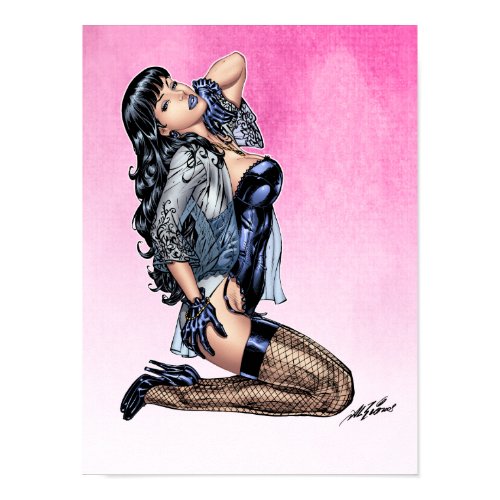 Sexy Black Lingerie Pin-up Girl Art by Al Rio
by
AlRioArt
If you enjoyed this post & would like to see Sexy Art from a larger selection some of my favourite sexy zazzle you'll find these & more on
My Website
Alternatively if you're interested in learning more about Pin Up girls & nudity in art you can visit my squidoo lens
Pin-Ups Through History
Adults only I'm afraid so you'll have to login or sign up (it's free!)